Interested in Gay Dating? Look for Adam4Adam In-Depth Review
You all know that Adam was the first man on earth. Keeping that in mind, the name Adam4Adam has been chosen to depict gay relationships. This dating website is specifically for gay men looking for short-term casual flings. Apart from gay, even bisexual and metrosexual men are welcome on this site.
Usability
With recently gained 10 million members, Adam4Adam is one of the most popular mature gay dating sites among the gay and bisexual community. You can use it to date a handsome man in the neighborhood, watch adult content, and read blogs. You can navigate through by registering and finding the right match.
Sign Up Process
Similar to any other dating site, you have to provide the login details. After they authenticate your email id, you can proceed by filling in some details in your profile. Be brief and avoid writing stories in the description. You may fill in some intimate details too.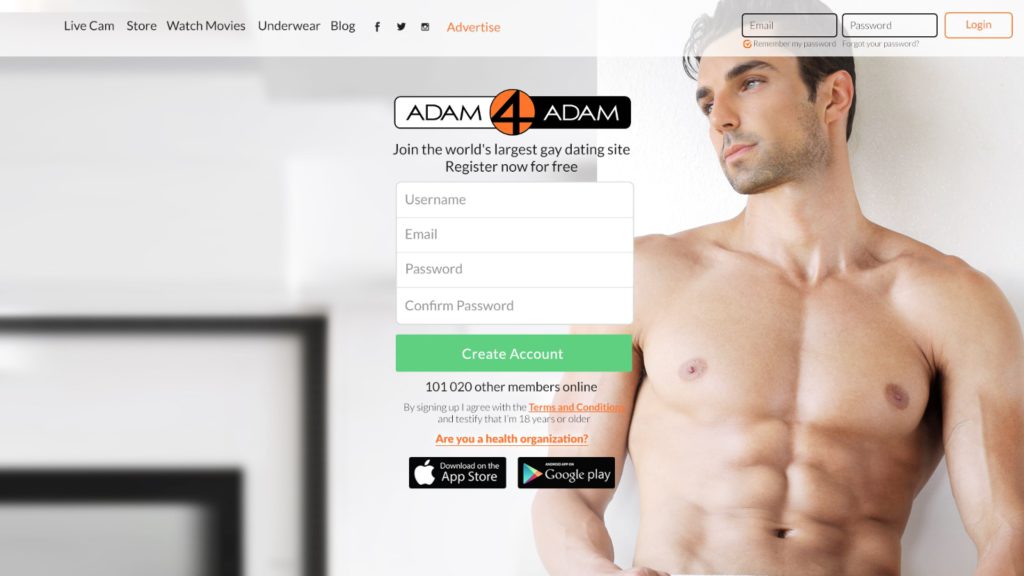 Adam4Adam Membership
Out of their 10 million users, 6 million belong only to the USA, and they have approximately 400,000 daily logins. 70% of the members are gay, and the rest are either bisexual, pansexual, or metrosexual. This website shows racial diversity with over 50% non-white males. The age range is quite wide. You will find members between 25 and 65 years old.

Profiles
As we were navigating our way through the website, we found nothing unusual in the profile creation. You have to fill in your preferences with age and gender. Here you get all kinds of options, such as if you are interested in only men or women. Your location and a profile picture is also necessary. We met a small obstacle with the picture resolution and file size. Make sure you check the file size before uploading.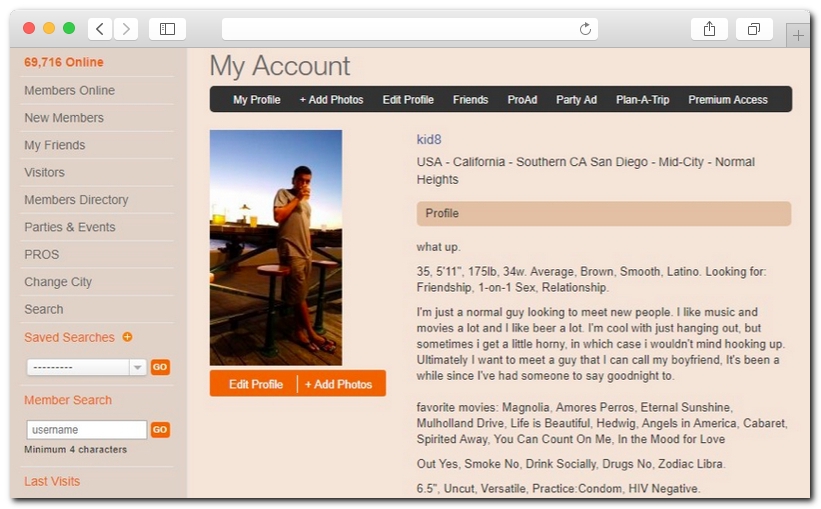 Matching and Searching
Adam4Adam made sure that different kinds of people met their choices. There are several filters, and you can be precise with your choice. In that case, the number of matches will be less. Otherwise, you can meet people with all sorts of likes and dislikes. Most filters include location, age, preference, race, profession, and so on. People from all walks of life are present on Adam4Adam.
Pros and Cons
Pros / Cons
You can make actual contacts for free
Optimized for Android and iOS
10 million members and rising
High racial diversity
Has a working app
Too many advertisements
Has adult content and videos
Email verification is not obligatory
App features are fewer as compared to the desktop version
The app design is basic and loaded
Adam4Adam App Review
Yes, the Adam4Adam app exists and can be downloaded for both Android and iOS. The app can be used in various languages like English, Russian, Arabic, and German. Members have given 4 and 3 stars. Some members commented positively, saying that there are plenty of locals and fun games to play on the app.
The negative comments are usually about the functionality, like the automatic crashing of the app and spam notifications. After using the app ourselves, we can say that the negative comments are true. The app is lacking in several areas. The design is unclear and difficult to use. The advantage is that there are frequent updates. They still need a lot of work on the app. Their mobile version of the website is better than the app.
Adam4Adam App vs. Website
App:
Design: Loaded and not attractive
Registration: You can use the app, but the buttons won't press
Messaging: Difficult to send and receive messages; the app says you have received 3 messages, but you haven't received any
Finding a match: Sometimes, the app doesn't show the location and other details of the person you are talking to
Website:
Design: Optimized, sophisticated and seamless
Registration: Easier and faster
Messaging: Much easier to make contact with the website
Finding a match: On the website, things are much clearer; you can even set some of the filters
App Ease of Use
The app has several bugs in its design, functionality, and optimization. There have been some updates in the last 2 weeks, setting some problems right. There are still a ton of other problems that need fixing. For example, you cannot tap the buttons, or the message you sent never reached the perFinal Verdictson. In general, the app is not easy to use due to design issues.
Pricing
Fortunately, this site provides all contracting services for free. For free, you can keep messages for fewer days or have fewer saved searches than paid members. Following are the prices:
1 month: 6.67 USD per month – VIP Access
1 month: 20 USD per month – Pro Access
Free vs. Paid Access
Free access on this website is amazing as you can send and receive messages, unlike other dating websites. You can go premium if you want unlimited access to searches and saved messages.
| | |
| --- | --- |
| | |
| | |
| | |
| | |
| | |
| Friends and Blocks: Limited to 3-5 | Unlimited Friends and blocks |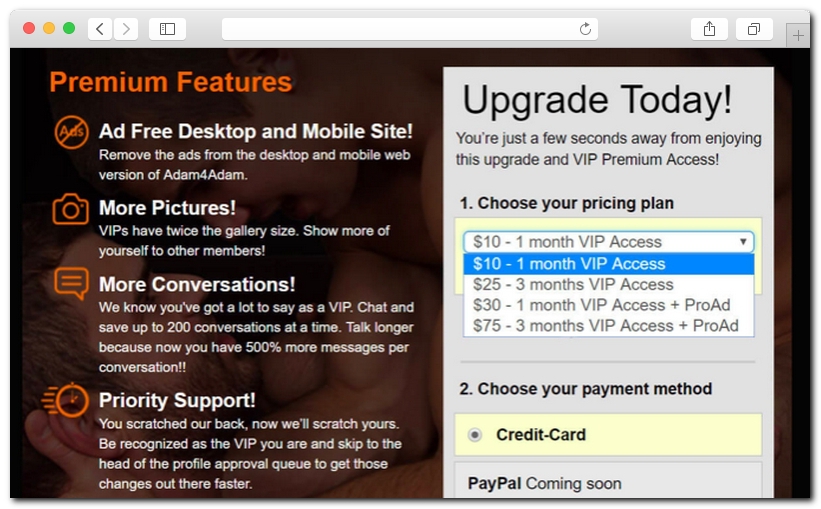 Adam4Adam Safety
This platform is safe with end-to-end encryption and an SSL certification. But Adam4Adam does not have the obligatory email id verification. The website says you may do it, but it is not necessary. It is a basic step to catch fraudulent activity and fake profiles. There is no background or identification authentication either. The website must play up its game as fast as security goes.
What People Say About Adam4Adam?
Well, people have various kinds of opinions. About the website, members are usually happy that you can have a real gay partner nearby. Also, free members can have all the functionalities. As far as the app goes, most people found it difficult to use and got annoyed by the ads and notifications.
Final Verdict
The final verdict about Adam4Adam is that you can find a gay partner for a casual night. It is easy to use, and several amazing options are waiting to be explored. The app, on the other hand, needs some work in debugging and decluttering. The security of both the app and the website must be enhanced.
FAQ
Does Adam4Adam do profile validation and background checks?
Unfortunately, Adam4Adam does not have any profile validation and background check on their members. It is good for the anonymity of their members but increases the chances of fake profiles.
How do I chat on Adam4Adam?
Chatting on Adam4Adam is simple. Click on the message or chat box and start texting. Free members can have 20 chats.
Does Adam4Adam offer refunds for cancellation?
Adam4Adam premium membership is one of the cheapest among others and can be canceled anytime. If you need refunds, you can contact the support group.

FREE to download
3 saved searches is FREE
Try it!