eHarmony in-depth Review
eHarmony dating site is an online dating site that promises to help you find the most compatible person for you and is regarded as one of the best dating sites for men. Your days of having brunches alone may finally come to an end.
This desire to find one's soulmate has been around for ages. From Adam and Eve, Paris and Helen to Dante and Beatrice, who only met twice but were madly in love, the one thing that hasn't changed is the longing for your perfect companion. The methods of finding love, however, have seen a drastic change over the century.
Usability
The eHarmony dating site also launched an app for easier and quicker access from anywhere at any time and is considered to be one of the best dating sites for women. The app is available for both Android and iOS users and can be downloaded at no charge.
If you are thinking about how the app is different from the site, there is none. You get to access every feature that comes with the site. The app also happens to be one of the most easily navigable dating apps.
Sign up process
eHarmony's sign-up process is quick and easy, even for a paying subscription sign-up. The first thing you will want to do is navigate in a browser window and type in: www.eHarmony.com.
Click to sign up for a new account, and then a new window will appear, asking for your name (or a nickname is fine), for an email address, and to create a password just for use on the site, not the same as your email password. Click submit to move on to the next step on each page.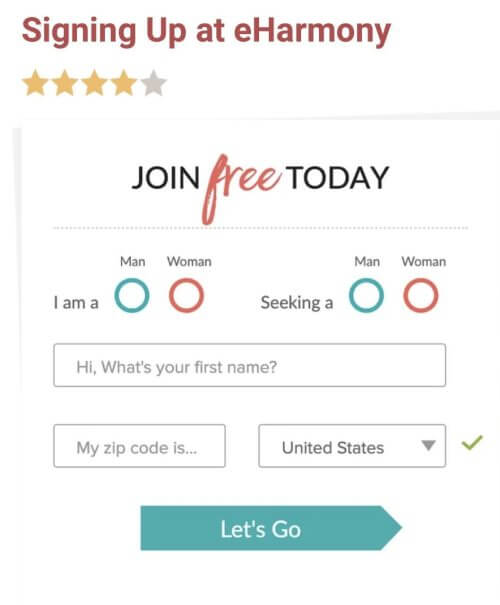 eHarmony Membership
Around 15% of US adults, nearly 50 million Americans, say that they have or continue to use sites or mobile dating apps like eHarmony in their pursuit of love.
These range from young to old, with 27% of young adults using a dating app. According to a recent survey, its membership base includes over 10 million people with 750,000 paid subscribers who are regularly and actively looking for a partner.
This service has a member base that spreads over 200 countries. However, the site has gained significant popularity in the U.S, Canada, and the U.K.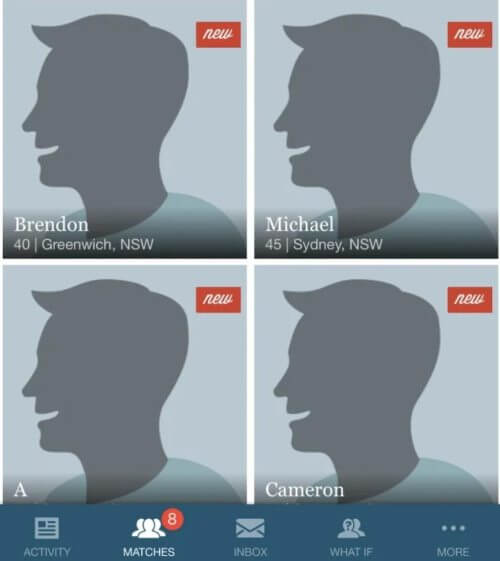 Profiles
On eHarmony dating sites, the detailed questionnaire you fill out in the beginning serves the very purpose of designing your profile that potential dates see. It reflects your personality, a virtual you. Of course, detailed profile is only visible to your matches and vice versa.
Additionally, your profile also shows some basic information such as name, age, height, and ethnicity, along with photos and Q&A. Your compatibility with a match is shown in different areas in percentages, including romance, emotional intimacy, and social values.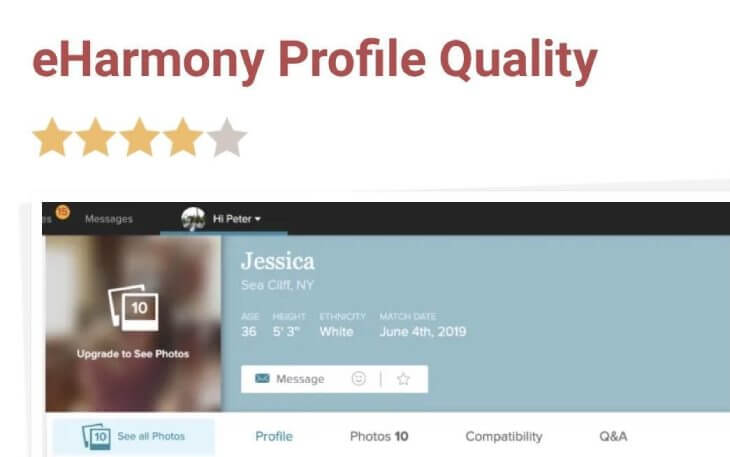 Matching and Searching
eHarmony dating site happens to be the first online dating industry to use a scientific approach to the matchmaking process. The matching system is based on using its 32 Dimensions model, which uses a compatibility matching system to complement couples based on their features.
Pros / Cons
One of the few best hookup sites that have members looking for long-term relationships.
The algorithm selects specific to your filters, saving you the time and effort to scan a thousand profiles.
In-depth profiles help you know a person well before you accept the match.
Compatibility Quiz increases the chances of matching with the right person.
Daily matches provided.
Not a big member base for gay and lesbian relationships, although it does offer a separate dating app for this.
Free membership doesn't allow you to see the match's photos.
No search option to find your preferred profiles.
Lengthy sign-up process.
Compatibility testing isn't always accurate.
eHarmony App Review
eHarmony App is one of the best dating sites that help people in the US find their preferred companions. This app is available on Google Play and Apple store. It is possible and easy to download it on iPhone and Android. App now allows for same sex dating.
You choose your preference on the very first sign-up screen. If you select a man, you can now search for other men. Women can search for women.
eHarmony App vs. Website
Here on eHarmony App, it is compulsory to download the app from Google play store or Apple store to access the app's usage.
On the site's registration page, you will be given two sign-up options. You can either choose to register via an email address or connect your Facebook account to the site. Either way, you will still be required to answer the questionnaires and personality tests that the site has prepared for every newcomer.
App Ease of Use
eHarmony is a friendly App that is very vital that possesses the features of a good dating service. The app is pretty well designed with all of the attributes prominent displayed in their header menu.
It is a clean and straightforward app, and the aesthetic style makes it easy to use, with a color scheme adding a pleasant touch. However, the app has a simple and user-friendly layout; it is easy to use for younger and older people, making it a better option in terms of usability.
Pricing
Duration:                                     Total
6 months:$65.90/month.              $395.40
12 months:$45.90/month.            $550.80
24 months:$35.90/month.            $861.60
Free vs. Paid Access
eHarmony dating sites have two different ways of rendering their service that makes members enjoy some basic features, which is a free and paid account.
Free Services:
Browse matches outside your preferences.
Send 5 site-generated questions.
Paid Services:
You enjoy unlimited messages.
You see who viewed you.
You browse anonymously.

Safety
eHarmony dating sites are safer to use than most dating sites because their mandatory questionnaire deters users from creating fake accounts.
This service also screen users against criminal registries to ensure nobody will be using it who shouldn't be. Still, don't meet anyone unless you feel you can trust them.
What People Say about eHarmony?
eHarmony dating site is worth it if you're looking for a long-lasting relationship. Using the site to its full potential requires users to pay a monthly subscription, so some people may not think it's worth it to pay to meet people compatible with them if they aren't serious about finding a compatible match.
Final Verdict
Since all have paid resources, longer registration procedures are more successful in maximizing their capacity to generate outcomes. As a result, eHarmony's dating site holistic method, which is logical and focused on psychology, could very well be able to have better pairing results in this regard. On the other hand, it is more versatile in terms of subscription options, as it offers a variety of plans to fit any budget.
Frequently asked questions (FAQ)
Does eHarmony do profile validation and background checks?
Yes, they do profile validation and background checks to ensure the legit and valid running of the websites.
How do I chat on eHarmony?
Way to chat here is to create an account or download the app on the Apple or Google play store then register to start chatting.
Does eHarmony offer refunds for cancellation?
No, this dating site does not offer refunds for cancellation. Once the subscription is paid, it is not refundable for any default.

Create Account is FREE
Browse matches outside your preferences FREE
Send 5 site-generated questions FREE
Try it!